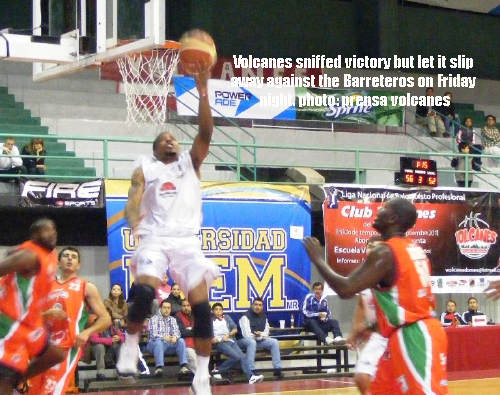 NCAA: Midnight Madness kicked off last night/this morning...soon it's 24 hours of hoops! Who's the NCAA champion, pick it today?
NBA: Players feeling pinch of not getting paid, strive to maintain solidarity...how long before they crack or will they?
Pan Am Games: Juanes rocked an opening ceremony in Guadalajara, many sports, many atheletes, we're tracking hoops which tips off on October 21st for the women and October 26th for the men.
Just two games on the LNBP slate Friday night:
Pioneros 105 - Panteras 66: After a confusing and dramatic week, during which Romel Beck split from the team and Leroy Hickerson arrived, things in Cancun seemed a little jumbled. Last night the Pioneros straightened everything out with a big win over the struggling Panteras. The Pioneros had four players in double figures led by John Millsap's 18. Joeseph Villalobos had 17. Leroy Hickerson had 12 in his first game back with the Pioneros and Antonio Garcia and Horacio Llamas locked the middle down controlling the paint for the Pioneros on both ends of the floor, the combined for 21 rebounds. Ricardo Melendez poured in 18 Jorge Casillas had 16.
Barreteros 86-Volcanes 79: Volcanes were on the edge of glory for a spell and then fell apart letting their first win of the season slip out of sight. The usual suspects of Carlos Toussaint, Larry Morinia and Eric Martin provided most of the Volcanes offense combinining for 68 of the Volcanes 79 points.